"For I know the plans that I have for you," declares the LORD, "plans for welfare and not for calamity to give you a future and a hope."
Jeremiah 29:11
"From the point of entry
Until the candle is burned
The point of departure
Is not to return
Anything can happen"
Prime Mover – Neil Peart
I remember it like it was yesterday. It was mid-January, 1988. I had gone to my first 12-Step meeting under the influence of a mood-altering substance. While at the meeting, I made the decision to quit using. I surrendered. But, when I got home, I still had to finish the rest of what I had. I mean, I wasn't going to waste it.
But seriously, it was at that time that I realized that I didn't want to continue the cycle of mental relapses and subsequent hospitalizations that had plagued me for the previous seven years that could be directly attributed to my drug use. I was afraid. It was this fear that motivated me to take that first step.
On the other hand, I also had hope. I experienced this when I saw a young woman stand up at the meeting and celebrate 30 days clean. I was in awe. Seeing her stand up and declare her abstinence and hard-fought efforts to beat her addiction, I realized that maybe, just maybe, I could do it too.
So, like I said, when I got home I used my remaining drugs and while doing so I was listening to the album, Hold Your Fire, by the Canadian rock trio, RUSH (the capitalization is my emphasis being the true fan that I am). The last song on the first side, "Prime Mover," is the one quoted at the beginning of this post. The song, which, in my estimation, is about life and how we can direct our own path, can still be full of unpredictability and potential at the same time.
In some ways, these lyrics can be compared to the verse from Jeremiah. While I may not know God's plan for me, I can be assured that there is hope.
On that cold January day in 1988, I could never have conceived in my wildest dreams of  living the life I do today. Mind you, it's been nearly 32 years of a vast array of experiences that have brought me to where I am today.
However, one of the cornerstones of this journey has been my connection with God. As time has gone on, my relationship with Higher Power has deepened, and thus so has my faith. How else can I explain the means in which I've endured the many trials that I've been through yet still manage to get through to the other side mentally healthy.
As I write this, I'm sitting in the same house I lived in on that evening in 1988. When my mother transitioned in 1996, my wife Suzy, daughter Sarah, and I moved in with my Dad. While the décor has changed, the memories of my early years of living with co-occurring bipolar disorder are still vivid. Even during those challenging times, I held on with dear life to the possibility of a better future. And when I got clean, things did get better.
I've come to believe that I co-create with God, yet still with this belief I do not know what the future holds. What I do know is that if I consider the journey I've been on, and where I am today, anything can happen. And I'm okay with that.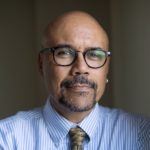 Karl Shallowhorn is the President and Founder of Shallowhorn Consulting,, LLC. He is also the Chair of the Erie County Anti-Stigma Coalition and serves as the Chair of Affiliate Relations for the Mental Health Association in New York State. He lives in Amherst, New York with his wife and their dog Sophie.