It was December 25, 1981. I was a mere 19 years old and I was already in my second psychiatric hospitalization of the year, the first being in the previous February through March. As with the first stay, I was in the Buffalo General Hospital Community Mental Health Center. I had experienced another psychotic episode due to a combination of substance use and poor medication management. At this time, I had a diagnosis of Schizophrenia (I was eventually diagnosed with Bipolar Disorder Type 1 with psychotic features) and was unable to gain relief from the mish mash of meds I was prescribed.
On that day I received a day pass to go home to spend the day with my parents. Honestly, I don't remember any more than that. But, what is remarkable is that I still recall the feeling of having to go back to the hospital. I was very despondent at the prospect of spending an uncertain amount of time in the facility. But in due time I was discharged.
I spent the next six years cycling through Buffalo area institutions, with each Christmas finding me in a different state of mind. Some were better than others, but all in all, they were not as celebratory as perhaps I had wished.
But something changed. I got clean in 1988 and had my first Christmas at home with a brighter future ahead. I had hope. I had the feeling that things in my life could be different. It was like I had received a breath of life. This breath, I believe, came from the Son, who, through His infinite power, can make all things whole.
One example of being made whole was the relationship I have with my family. I put my parents through a lot of despair when I struggled through those years before. I spent several Christmases after I got clean living at home with my folks. They really were a time of love and togetherness. Both of my parents have transitioned however my wife, daughters and extended family have helped to create holidays that have provided me with a lifetime of wonderful memories.
I believe that despite how difficult this season can be for so many, it can still be a season of promise. I have a friend who celebrated 31 years of addiction recovery recently. His story is one of promise. I have another friend who lives with chronic depression who has, in the last year, made tremendous strides and is working in his field of choice, something that he couldn't do a few years ago. His story is one of promise. I have a professional colleague who, at one time, was homeless and who lives with a severe mental health challenge. This same person oversees a local peer-based mental health agency. Her story is one of promise.
Each one of these individuals could have been written off. But, by the grace of God, and a measure of perseverance and hard work, we are living what we call, in my 12 Step program, a "life beyond our wildest dreams."
This has been an especially hard year for all of us. And this Christmas will be even more so. But I believe that the promise of Christ's presence and God's grace will see us through.
I wish you a Blessed Christmas season and a healthy and peaceful New Year.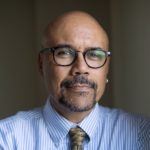 Karl Shallowhorn is the President and Founder of Shallowhorn Consulting,, LLC. He is also the Chair of the Erie County Anti-Stigma Coalition and serves as the Chair of Affiliate Relations for the Mental Health Association in New York State. He lives in Amherst, New York with his wife and their dog Sophie.