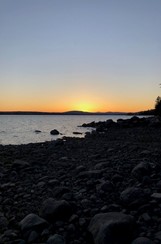 Stephanie Spellers, in the new book, "Disruption, Decline, and New Hope for Beloved Community," writes of the current state of church. Rev. Spellers, an Episcopalian priest and writer, recalls texting a friend last summer:
"God is breaking open this church and pouring us out – pouring out privilege, pouring out empire, pouring out racism and human arrogance – in order to make us and use us to serve God's dream for the whole world. We are the broken jar. It hurts and it sucks….and I think it's a gift."
Rev. Spellers looks to the story of the woman who breaks the alabaster jar and pours the healing ointment all over Jesus' head. The woman is rebuked by the disciples for wasting the valuable contents, but Jesus comprehended the urgency in her actions. For she sensed that he was soon to be killed by the powers and principalities of this world. She felt a need to act. Now. Spellers imagines this woman offering a prayer to the world.
"You and your church, you are holding a beautiful jar. You are used to grasping it with both hands, tilting and pouring the contents with moderation through the carefully crafted spout. Someday, you will have to break it open so that contents flow free, or God will do it for you.
You and your church, you think loving a thing means protecting and maintaining it exactly as it was handed to you. Someday, you will understand what it means to love something enough to let it crack apart and just sit with the pieces, notice what needs to be removed for good and then faithfully piece together what matters most to make something more whole, something more like what God intended all along. Someday, you will lose your life and gain real life. Oh child, this could be one of those times."
A woman of color sought psychiatric help after experiencing suicidal ideation triggered by having to return to a racist workplace. The Pandemic, for her, unveiled her white co-workers' deeply entrenched racist beliefs. These subtle acts of exclusion now felt intolerable to her. Too, she was tired of being the token "brown person." The one they turned to during times of racial crisis to be the face of the office. She chose to take a leave of absence to heal, to reassess her situation, to redefine her path forward, and to break open a new sense of purpose.
Amidst a pandemic, racism, police violence, mass shootings, and climate change, many of us our reflecting on past choices, past behaviors, and reconsidering what is important to us. I have found myself re-assessing my priorities, values, and the integrity of certain social connections. I am tired of trying to fit in socially in places where I just don't. I am tired of being something I am not. I am extremely tired of ego and all its trappings.
Sometimes facing the truth, facing reality, though hard, brings us back to God. Rev. Spellers reminds us that Jesus taught us to be in solidarity with the oppressed. Spellers reiterates the importance of releasing our grip on privilege, to recenter on God, and live as a beloved community. A community that dares to see those at the margins. To stand together in communion is salvation for us all.
It is in the dirt and mud of our human journeys, where we are met and nurtured by God. God meets us in our desperate moments, and this extraordinary act of grace propels us into a future that holds possibility. Our ego and false self are poured out, and we are cracked open anew. What helps you regain your footing and balance my friends? So that you might rise, in communion with others, returning to a changed landscape, feeling the strength and power of God's deep and healing love.
Jennifer Stuart is an ordained minister in the United Church of Christ. She serves as a community minister at First Church in Cambridge, MA, UCC. Jennifer, a clinical social worker specializing in psychological trauma, is a psychotherapist at the Danielsen Institute at Boston University.