September is Suicide Prevention Awareness month and most folx expect that I will write something about this. And, I am, just not quite so directly as you might anticipate. It's no secret that there is an ever-increasing number of people living with depression and anxiety along with several other challenges to wellness.
Recently, I've heard many people raising concerns about how the church has historically encouraged us to separate our bodies from our psyches, our minds and spirits. This dualism is a result of many cultural influences over the centuries and the misunderstanding of perfection that continues to haunt today's church. This dualism at it's most damaging, can lead to addiction, suicidality, and other forms of self-harm. This is not what God wants for any of us. Healing is possible.
It's no secret that I had an eating disorder as a teenager and young adult. I spent years, if not decades pretending to be fine. In reality I had learn to manage my eating disordered behaviors but not my thoughts. If I am being completely honest, I still have very negative voices in my head when I see my reflection.
Today in worship, I heard myself saying that we must bring our whole selves to God, especially the wounds we carry that are covered in shame. Nothing about our bodyminds are hidden from God. This is good news because it tells us that God's love for us is without condition. God isn't waiting for us to conform to the ableist expectations of society before claiming us in love.
If you are like me and are struggling to heal the division between body and psyche and live more fully in God's love, then here are five things you can do:
If your bodymind has changed size since and last years clothes no longer fit, remind yourself that this is okay and in no way changes your value as one of God's beloved.
If your bodymind carries physical pain, do not push yourself to exhaustion trying to keep up with ableist norms. Your value as a human being has nothing to do with what you can produce or accomplish. (Also, whatever the cause of your pain, it is not from God or part of God's plan. If it is not the way of Love, it is not the way of God.)
Take a moment each day to be as still as you can and offer gratitude for something about your body mind.
Seek to honor your bodymind with nourishing food and rest. Remember your bodymind is where the Spirit dwells. You are holy even when wholeness seems out of reach.
Be honest with yourself and with your loved ones about what your are experiencing in your bodymind. If you are open and honest, it is entirely possible that others will be, too. The Table is big enough for all of us and Love abounds.
Be kind and gentle with yourselves. Be kind and gentle with your neighbors. Together we are the Bodymind of Christ and we are Beloved.
If you or someone you know is suicidal, please reach out to someone who can help. You can call or text 988 or chat at https://988lifeline.org/.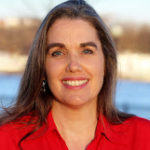 Rev. Dr. Rachael Keefe is an author, and the pastor of Living Table United Church of Christ in Minneapolis, MN. You can find links to her blog, video series, and books at Beachtheology.com