A New Mental Health and Wellness: Worship Resource Guide for All!
Congratulations on making time for mental health in your community! The UCC Mental Health Network is here to assist you in developing programming so you too can participate in the growing practice of Mental Health Sundays.
UCC Mental Health Network Video
Join us in cultivating wise, inclusive, supportive, and engaged congregations.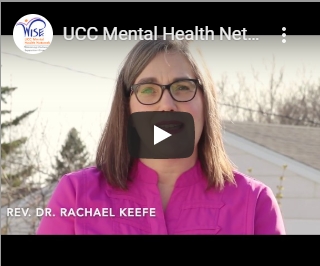 What is Mental Health Sunday?
We see Mental Health Sunday as a way for your congregation to begin or to continue to provide education and support to your members around mental health challenges.
When is Mental Health Sunday?
The United Church of Christ Mental Health Network invites you to highlight mental health on the third Sunday in May or any Sunday that suits your schedule.
How Can We Do Mental Health Sunday?
We encourage you to:
Feel free to use the resources as they are or adapt them to meet the specific needs of your congregation. You can also develop your own resources, and if you do, we encourage you to share them with us so we can make them available to other congregations.
What is Mental Health Sunday like?
Read a story about the Mental Health Sunday celebrations held by UCC congregations on October 20, 2013.
What Resources Exist for Mental Health Sunday?
Worship with the Council of Conference Ministers: Maybe take a mental health break by using the worship service they have provided. Even clergy need a break during these unknown times.
---
For putting together a service with your congregation, download and print these files or edit/format them to meet your needs.
The UCC Mental Health Network intends to provide on-going resources and suggestions. We would gladly welcome any of your questions as well as stories of what you have done regarding a focus on mental health in your congregation. Share these by emailing Alan Johnson, chair of the UCC Mental Health Network, chair@mhn-ucc.org. For questions about becoming WISE or the process of becoming WISE, please contact wise@mhn-ucc.org.
Previous Year's Resources
Radical Belonging: A Mental Health Sunday Resource for All: Download PDF, Download Large Type Version