"But to each one of us grace has been given as Christ appointed it."
Ephesians 4:7
My journey with bipolar disorder began when I was a freshman in college. Like many of my peers, I was on my own for the first time. I took this opportunity to engage in drinking and drug use, however unlike others, this behavior served to create major problems for me: failing grades, a host of medical issues, and eventually a sense of disconnection from all those around me.
Everything came crashing down on Friday, February 13, 1981. I found myself in my dormitory room, experiencing delusional thoughts of being the devil and having auditory hallucinations of my mother calling out to me as I attempted to take my life.
My parents drove through the night to bring me home. Upon arriving I was immediately admitted to the Buffalo General Hospital Community Mental Health Center. This was the beginning of an eight-year cycle of repeated hospitalizations at local institutions, including the Buffalo Psychiatric Center (BPC), which housed many of the area's most severely mentally ill individuals.
For the next seven years, I continued to abuse substances, and despite being in intensive outpatient treatment, I still struggled. I experienced profound periods of hopelessness and despair. At times, I was so depressed that I could barely get out of bed or take care of my daily needs.
But despite all of the issues I faced I never blamed God. If anything, I prayed fervently for deliverance from my destitute condition. There were even times when I would call my former pastor, Rev. Philip Smith, who had confirmed me as a teenager. Rev. Smith ministered me while I was in the hospital and offered words of prayer that served to soothe my tortured soul.
I vividly recall an occasion when I was a patient at the BPC. I had taken the Bible I had received as a confirmand with me. One day I couldn't find it. After searching for it I found it destroyed in the shower area. This truly broke my spirit. I knew, at this time that I had to find a way out of my downward spiral.
I continued to attend outpatient counseling and during one particular session my counselor gave me the option of going to rehab, an addiction support group meeting or inevitably end up back in the hospital. I chose the meeting. This was a turning point for me. After seeing a young woman celebrate 30 days clean I was imbued with a sense of hope. And it was this hope that has carried me ever since.
Since that time in 1988 I have been substance-free and have been able to develop a lifestyle of recovery that has enabled me to experience a life beyond my wildest dreams. I have been fortunate to have developed a healthy support system, including my wife Suzy and my daughters, Sarah and Lillie as well as my extended family. I have worked in both the addictions and mental health field for over 15 years and have dedicated my life to advocating for those who so often have no voice.
But just as importantly, my spiritual foundation has grown stronger. Shortly after I got clean, I joined my church, Pilgrim-St. Luke's and El Nuevo Camino UCC. It was here that I learned about the importance of service, both to God as well as others.
The one thing that I must consider when looking back on my life is how I have been a beneficiary of God's grace. Despite my shortcomings, character defects, and the mistakes I've made along the way, I have been shown God's infinite love in more ways than I can count.
When I think back to those days of struggle and fear of the future, I realize that what I have in my life is not entirely of my own doing. Yes, I have worked hard in my recovery, and it hasn't been easy, but I cannot deny God's hand in my recovery. It is through my ongoing relationship with God that I am able to face life on life's terms. And for this I am entirely grateful.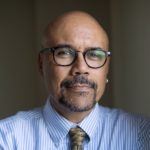 Karl Shallowhorn is the President and Founder of Shallowhorn Consulting,, LLC. He is also the Chair of the Erie County Anti-Stigma Coalition and serves as the Chair of Affiliate Relations for the Mental Health Association in New York State. He lives in Amherst, New York with his wife and their dog Sophie.