It's Advent. And we wait. We wait for a miraculous event that can transform lives through weeks of hope, peace, joy and love. For the literal millions of people, however, who live with a mental health diagnosis, even a day can feel like forever.
I remember the experience of being institutionalized; waiting for the day of liberation; the day I would get out. More often than not, my timetable didn't match that of the mental health professionals who were acting on my behalf. Those days of waiting were filled with anguish and despair. "When?" I would ask myself. While my peers were moving forward with their lives, completing college and establishing careers, I was in a revolving door of hospital after hospital. I just wanted to be "normal," whatever that means.
Days felt like forever. The humdrum activities like art therapy and such were a poor attempt at making what was an otherwise boring day into an uneventful one. I even recall one occasion when hospitalized at the Buffalo Psychiatric Center, we took a "field trip" to the Buffalo Outdoor Show at the local convention hall. I can only imagine how we looked to the people at the show. But hey, at least we got out.
When you're in an institution there is a lot of waiting. Waiting for breakfast. Waiting for morning meds. Waiting for lunch. Waiting for dinner. Waiting for evening snack. Waiting for evening meds. Waiting.
So, what does this have to do with Advent. I believe that we need to extrapolate ourselves out of the humdrum and commonplace experiences of the Christmas Season. It is so easy to fall into old habits of obligatory gift giving, holiday parties, and played out Christmas TV specials.
Now before you start accusing me of being a Grinch, consider what Advent is really about. It is a time of expectation. And with that expectation we can experience the hope, peace, joy and love that is promised. But put yourself in the place of someone for whom the Christmas Season is filled with loneliness and despair. They are waiting too. But they are waiting for relief. A sense that they will get better. This is what is so desperately wanted. Hope. It begins with hope.
And then there is peace. When people are struggling with a mental health condition, another thing they wait for is peace. Inner peace. Not the peace that can come from outside, but the peace that surpasses human understanding. It's the kind of peace that calms the mind and softens the heart.
From peace, we come to joy. Just one moment of joy is all one can ask for. When one experiences the exhilaration of joy, even the most severe problems can be diminished. Joy is hard to come by for those who are in the grips of mental illness. But when it happens it can literally change a person's life.
And finally, there is love. This is the ingredient in recovery that is so often overlooked. Everyone deserves to be loved, no matter how severe their condition. After all, isn't this what Christ asked us to do? "To love our neighbor as ourselves?" If this was practiced more often, then there would be less stigma and discrimination against people who live with conditions that they would never ask for. Yes, love. I have been both the recipient and donor of love. I know what a difference it has made in my life. With love comes acceptance. And this is what so many people who are affected by mental disorders want.
So, we wait. We wait with hope, peace, joy and love in our hearts for the One who can facilitate the healing we need regardless of the means in which we experience it.
May you be filled with hope, peace, joy and love in this Blessed Season.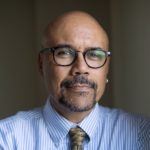 Karl Shallowhorn is the President and Founder of Shallowhorn Consulting,, LLC. He is also the Chair of the Erie County Anti-Stigma Coalition and serves as the Chair of Affiliate Relations for the Mental Health Association in New York State. He lives in Amherst, New York with his wife and their dog Sophie.