"Perhaps this is the moment for which you've been created."
Esther 4:14
"Life can only be understood backwards, but it must be lived forwards."
Soren Kierkergaard
If only I had known these two things when I was in the depths of my despair in my late adolescence and early adulthood. It was during this period that I suffered (and I mean really suffered) from the effects of bipolar disorder and co-occurring addiction. There were certainly periods of time when I experienced what is commonly called, "the dark night of the soul."
I spent years of cycling through mental health facilities, multiple psychiatrists, seemingly innumerable medications and a regular series of therapists. It was during these times that I truly wondered what the future would hold for me.
But there was something inside. Call it my competitive nature, drive, or sheer determination; I managed to pull through it all in one piece. This was, by no means, an easy feat. I had many a day of wondering exactly where I was headed.
Interestingly though, things began to take shape. The catalyst was my getting into a formal addiction recovery program. It was here that I began to nurture my belief in God. I had been raised UCC so the whole idea of believing was already instilled in me. But being part of this program made it real. Like my life depended on it.
It was through this affiliation that I chose to enter the field of addiction counseling and landed my first position working at a Buffalo area hospital-based clinic. It was about three years into this job that I experienced another manic break. This took me out of work for three months however my employer was very gracious in allowing me to return and I was even transferred to a less demanding area.
I then returned to school and earned my Master's Degree in Student Personnel Administration and subsequently entered the field of higher education for 12 years.
But it was near the end of this period that I began to feel a call. At first, it was more like a whisper. It was like hearing God say to me, "Go. Tell people about your life and the healing you have received. And by the way, don't forget to give me some of the credit."
It was then that I went to my pastor and said, "I just want to tell my story." And this where the transformation began. This was about 12 years ago. I was allowed to briefly share my story in church. And then from there I actively sought out ways to do the work, that now, I believe, God has asked me to do.
In the years since, I returned to the field of human services, working at a behavioral health provider, Horizon Health Services, for 3 ½ years and then as a mental health advocate and educator for the following four at the Mental Health Association of Erie County and Compeer Buffalo. I now work for an organization called Therapy.Live where we have developed a mental health curriculum for high school students called Prepare U.
I currently serve on several Boards (including the UCC Mental Health Network) as well as on advisory groups and do some consulting work on the side.
I can honestly say that I have found my calling. It has taken me well into my fifth decade of my life to do this but I could not be happier. The fields of mental health and addiction are not easy to work in. Many times, we deal with situations that are complex in nature and challenge even the most experienced professional.
And then there is the stigma that goes along with these two conditions. It often times feels like an uphill battle. But it is one that we must fight, nonetheless.
When I look back on my life I can say two things. First, it's easier to see the connections and actions that got me to where I am today. And secondly, while I would never want to endure the pain of those early years again, I cannot deny how important they were in helping me to do the work I do today.
Yes. I do believe that God has called me to do this work, just like any other kind of ministry that exists. I do not wear vestments of any kind, nor am I able to quote scripture off of the tip of my tongue. But regardless, I believe that God is using me to do the work he is asking of me in the way that I am able to serve best.
What has God called you to do? If you listen carefully, you may just find out.
Peace.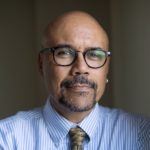 Karl Shallowhorn is the President and Founder of Shallowhorn Consulting,, LLC. He is also the Chair of the Erie County Anti-Stigma Coalition and serves as the Chair of Affiliate Relations for the Mental Health Association in New York State. He lives in Amherst, New York with his wife and their dog Sophie.