Recently I heard someone tell how the word "hate" is like a swear word in their household. They talked about how the idea of hate can often be used to give license to do bad or cruel things. I was completely on board (and in fact, came home and told my husband that we should have a similar rule with the child who is due to be born in the next few weeks). I remember as a child feeling that the word "hate" had a whole lot of power.
But then this person gave a few examples of acceptable alternatives in their household: "I strongly dislike" or "grrrr, this thing is driving me CRAZY!" I felt myself tense up, and there for a little while, they lost me, and I was gone in my own head thinking about the word "crazy".
I won't pretend to have perfected the abolishment of the word "crazy" from my vocabulary, but I've been working on it for a long time. It isn't a term that has been used to describe me or my mental health, and I feel fortunate in that. I'm aware that some people who live with mental health concerns have worked to reclaim this word, by using it to describe themselves, and I'm in full support of the choice to do so.
Still, I was reminded, when I heard this person speaking, of the power of words. I was reminded of that power when I heard about their family's decision not to use the word "hate", and I was reminded of it again when I heard them use the word "crazy". The words we choose to use matter.
Yes, the intention behind word choice matters too, but most of us still have plenty of work to do in excising certain words from our vocabulary. And, as language continues to evolve (as it does), there will be new words and terms to excise. It is a journey. How do you work to remember the power of your word choice? What words or phrases are you currently working to excise?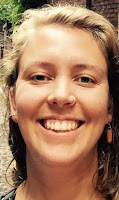 Hannah Campbell Gustafson
Hannah Campbell Gustafson and her family recently made a leap of faith and moved to Minneapolis, MN from rural Wisconsin.  She is the outreach coordinator at Plymouth Congregational Church.  Hannah is treasurer for the Mental Health Network, is trained as a social worker, has an MDiv, and is a Member in Discernment with the Southwest Association of the Wisconsin Conference of the UCC.  She and her partner (an ELCA Lutheran pastor) share their lives with their young child Leona and their standard poodle puppy Óscar.