Like so many, I have been overwhelmed by the images of children that have been separated from their parents at the border and placed in detention centers. These images have hurt my soul and brought me to tears. Out of my outrage, I have mobilized, making calls to politicians, signing petitions, and protesting at the local detention facility the policy that allowed this to happen. Doing something helps break me out of the sense of powerlessness that could easily engulf me and tear away at my own mental health.
I have watched several videos of children who have been reunited with their parents; young children who stand like statues in the embrace of a sobbing parent so happy to have their child returned. Although they have been reunited, much damage has already been done to the mental health of these children. The bonds of parenthood have been fractured by separation. Their days have been filled with uncertainty in a strange country where not everyone speaks their language. How many of these children cry themselves to sleep? What activities do they have to distract or educate them? Who is there to comfort them and calm their fears? What must go through the minds of these kids as they struggle to understand why this has happened to them and why their parents have seemingly abandoned them?
And yet the children that have been released are the lucky ones as far too many others languish in "tender age" facilities and detention centers. The details of their treatment remain unclear and their future remains uncertain. Without proper nurturing and professional support, their mental health is in peril.
Closer to home, I wonder what is going through the mind of my nine year old daughter as she tries to process the images that she has been seeing of children crying as they sit behind gates or in cages. I have had long talks with her about what has been happening but I know much of the politics is lost on her. I wonder how any of our children could be exposed to such realities without there being some impact on their mental health; something that touches them deep inside that makes them wonder if this could happen to them. These are images that have the potential to plant the seeds of anxiety and depression into the souls of our children.
No matter how much we might want to, it is no longer possible to shelter our children from much of the realities of the world today. This is an informed generation with access to all types of electronics and media. Even if I were to try and shelter my child from this information, she would hear about it from friends. It is much better for her mental wellbeing if I am open and honest with her, explaining the situation to her in a way that helps her to understand what is happening, while at the same time reassuring her that she is safe. I make myself available to answer her questions, and I find lately that I am hugging her a bit tighter and a bit more often. I also keep a watchful eye over her to make sure she is not being overwhelmed.
No one is keeping a watchful eye over the mental wellbeing of the children that have been detained. No one is hugging them or explaining to them what has happened. No one is loving them and calming their fears. They are scared, they are alone, and their mental health is suffering irreparable harm.
While politicians argue, God cries for the children…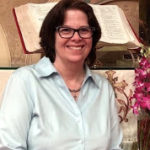 Rev. Lisa LeSueur is the Pastor of Congregational and Staff Care at Coral Gables United Church of Christ and a member of the Board of Directors of the UCC Mental Health Network. She serves as the UCC Florida Conference WISE Mental Health Coordinator and the Suicide Prevention Initiative Coordinator for Nami Miami. She lives in Coral Gables, Florida with her wife and their two children.