It's a rainy Labor Day in Miami due to a tropical storm moving through so it will be a day spent inside. I know my blog is due, but no idea has come clear to me yet. I set out instead to begin cleaning out old cabinets and boxes with the hopes of feeling productive while my kids are still asleep. As I sift through mounds of paperwork and old pictures I come across parts of my past I had not confronted in many years. In a file I had marked simply "job" out fell pictures taken almost 30 years ago. I was immediately struck by one photo in which I stood next to several other employees, as well as several of the managers at that time. Everyone around me had smiles on their face as they held up whatever award they had just been given. I also had received an award but the look on my face revealed the inner turmoil I was going through at that time as I tried to come to terms with my sexuality. What I saw on my face was a frown, almost more of a scowl. I remember that look well. I wore it almost as a badge of honor at that time as I tried to navigate in a world in which I could not live out the full expression of what it meant to be me. It reflected the inward pain of my journey and my outward attempt to keep the outside world away, so I could avoid further assault on my inner being.
As I sifted further through this file, I found a legal pad filled with musings of my view of the world at that time. Filled with darkness and self-loathing, it was a trip down memory lane I could have done without. And yet it is exactly this pain that helps me identify with others who have been marginalized in a world that often seems unable to accept that which is not deemed "normal".
Fortunately for me I found a way out of my darkness when I found a church that accepted me just as I was. It didn't happen overnight, but through acceptance I learned how to smile again and to embrace happiness. I learned that church did not have to mean trying to live my life outwardly conforming to a theology in which the inner me was excluded. Instead, my inner me could be worn outwardly for the world to see. Yes, even I could dare to hope and dream.
I feel a deep sadness for the person that was staring out at me from that picture taken so long ago. She still lives inside me, cheering me on, pushing me to make up for the years that were lost. She reminds me that there are still too many in this world that are stuck in that place of non-acceptance because the world itself is often cruel and unyielding. She is the foundation of my empathy that forever connects me to those who need to feel the love of God's embrace. She is that place that resides deep within me that has been touched by God and compels me forward to spread the inclusive vision of God's Kingdom. Above all else, she is the imprint on my soul that continues to teach me the meaning of becoming W.I.S.E.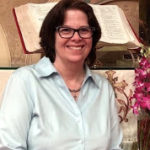 Rev. Lisa LeSueur is the Pastor of Congregational and Staff Care at Coral Gables United Church of Christ and a member of the Board of Directors of the UCC Mental Health Network. She serves as the UCC Florida Conference WISE Mental Health Coordinator and the Suicide Prevention Initiative Coordinator for Nami Miami. She lives in Coral Gables, Florida with her wife and their two children.