"Come to Me, all you who labor and are heavy laden, and I will give you rest."
Matthew 11:28 (NKJV)
Last week was Labor Day in the U.S., which is celebrated annually on the first Monday in September and is a creation of the labor movement. Dedicated to the social and economic achievements of American workers, it constitutes a yearly national tribute to the contributions workers have made to the strength, prosperity, and well-being of our country. (U.S. Department of Labor)
While labor is looked at as being associated with a workers' daily grind there is another connection as well. In the scripture from Matthew, Christ invites all of us who are weary to find a place of rest in his comforting arms. I believe that this particularly pertains to those of us living with mental health and/or addiction conditions as well as for those loved ones who are often burdened with the responsibility of taking care of someone who is in the midst of their own struggle.
As someone who lives with a co-occurring disorder, I can personally attest to feeling overwhelmed by the prospect of living this way for the rest of my life. It took me many years to come to a place of acceptance in which I had to acknowledge that I needed help and that I couldn't fight this battle alone. And sometimes I just got tired. Tired, frustrated, angry, and confused. Eventually, I got sick and tired of being sick and tired. And that is when I had to surrender. While surrender is often seen in the negative, when it comes to recovery from addiction and mental illness, surrender can be the key to beginning to find a way to a better life.
On a side note, recovery, itself, is a very complex issue. What much of it all boils down to is the human brain. Research shows that those who live with mental health and addiction disorders, have brain systems that are different in nature than those who do not. This, essentially, can make the prospect of developing a stable lifestyle that much more challenging. If it were so simple to be "cured" of addiction and mental illness, then most people would not have to live with a condition that can be so disabling.
Hence, developing a life that is symptom-free can be especially challenging. This is where the fatigue sets in. I've had times when I simply just have said, "NO MAS!!" It is at these times that I have had to pray for relief and comfort. I have had to employ my recovery tools and also actively practice the faith it takes to overcome whatever issue I'm facing. Due to my chronic, lifelong condition, I have to continuously seek help from the Power greater than myself.
Life can be an arduous and long journey, fraught with despair and disappointment. For those living with brain disorders of any kind, it can result in a sense of hopelessness resulting from the relentless exhaustion created by chaos and despair.
The thing to remember is that Christ is available to give us a place to find solace. No matter what I'm facing I know that He is present and wants to help me recharge for the day at hand. I've had countless experiences that have served to prove this in my life. If you find yourself worn down know that Christ is there for you. We all need to take a break every once in a while.
Be well!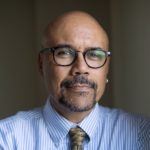 Karl Shallowhorn is the President and Founder of Shallowhorn Consulting,, LLC. He is also the Chair of the Erie County Anti-Stigma Coalition and serves as the Chair of Affiliate Relations for the Mental Health Association in New York State. He lives in Amherst, New York with his wife and their dog Sophie.