"But those who hope in the LORD will renew their strength.
They will soar on wings like eagles;
they will run and not grow weary,
they will walk and not be faint.."
Isaiah 40:31
I was listening to an episode of NPR's "This American Life." One of the segments featured a college admissions director who was sharing about parents who have attempted to imitate their children by writing emails and essays. One of the points he mentioned was that in many cases he could tell that it was a parent simply by the language that was used. One word in particular was "awesome."
Now, as a parent and someone in middle-age, I must confess that I do use that word. A lot. Sometimes I just can't help myself. I mean, it just comes off the tongue so easily. And there are times when it's convenient; like it's an easy way to speak about how excited I am.
But what about when I'm not doing so well. Are things awesome then? Usually not. These are times when I struggle just to make sense of just what the heck is going on. Where is God in these moments? Where was God when I was catatonic in my dormitory room. Or where was our Creator when I was out of control so many times in a manic state?
Guess what? God was there. God helped me through those extreme peaks and valleys. It wasn't that God wasn't present, it was simply that due to my impaired state I was unable to feel God's presence. It is in those dark moments when there seems like there are no apparent solutions. These are the times when people often give up hope.
I can, however attest that God, in fact, is present during these periods. Otherwise how could I, someone who has been so incredibly impaired by my bipolar disorder, get through the many years of confusion and despair I've had. It wasn't by my own doing. Mind you, I did have to put forth much effort however some of these things are inexplicable in human terms.
This is how I can say our God is an awesome God. How else can I explain my recovery? Over the years I have developed a belief system that tells me that I can do far more than I believed possible with the help of an infinitely powerful God.
One example is when last year I participated in a local cycling cancer fundraiser called the Ride for Roswell. I had just turned 55 and decided to take on the 102-mile "Century Ride." I had never attempted anything like this before (although I did run two marathons many years ago). It was on my bucket list.
I trained all summer in preparation for the event. That day, however, things didn't go as I had originally planned. I was doing well but when I got to around the 75-80 mile mark I began to get cramping in my upper left quadriceps muscle. To add insult to injury, my left foot kept slipping out of the cleat. It was worn out.
With about 12 miles to go I began to cramp up severely. My riding partner Mark asked if I wanted to stop and get picked up by the "SAG" relief vehicle. I responded, "No, I want to finish." So, I rode on. I will never forget the experience of completing the final mile of the ride. My legs were sore and my arms were extremely tired from having been on the bike for nearly six hours. It was during this time that I prayed. I looked at the cross tattoo I have on my inner forearm. And I thought about my dear mother-in-law who was bravely battling her cancer diagnosis. It took everything I had to finish.
And finish I did. By doing so, it reinforced how, when faced with an insurmountable challenge, it is possible to face it and overcome it. This is what makes God so awesome. God can do for us what we are not capable of doing for ourselves.
I'm going to keep using that word, awesome, no matter what.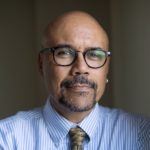 Karl Shallowhorn is the President and Founder of Shallowhorn Consulting,, LLC. He is also the Chair of the Erie County Anti-Stigma Coalition and serves as the Chair of Affiliate Relations for the Mental Health Association in New York State. He lives in Amherst, New York with his wife and their dog Sophie.