It was about a month ago that I received a text message from an old friend. She shared that a good friend of hers' son was in the midst of a mental health crisis and asked if I would be willing to speak with her. As is my custom I did not hesitate to reply, "Yes."
When speaking with the mother I could hear the pain she was experiencing. That feeling of uncertainty about her son's wellbeing, not to mention his future, was most pressing in her remarks. She asked if I would be willing to meet with him and I agreed to see him that evening.
Without going into further detail to preserve the identity of those involved, I will simply say that this certainly was not the first time I've had such meetings. In fact, over the last 5 or six years I've had many encounters, whether it be with individuals who are dealing with a mental health concern or their family member who is at a loss for where to turn and is simply looking for guidance.
In the Book of Matthew, Chapter 22 verse 39, Jesus tells a Pharisee the following, "Love your neighbor as yourself." Of course, this can be applied to so many situations we are faced with, but for me it's even more meaningful, especially in the area of mental health.
In my life I've been extremely fortunate to have had support from friends, family and even "angels unaware." What it all comes down to is the simple fact that with all of the love I have received I feel that it is my responsibility to share that the same with others. Some would call it "paying it forward." I would simply call it what Jesus is asking me to do.
When I think of the years I suffered from my bipolar condition I did not have a mentor or anyone who shared their personal experience with me. Mind you, I did have support, as I previously said, but I did not have a peer (someone who has a lived experience with mental illness) to provide me with guidance and a compassionate ear to listen to my struggles. Perhaps that is why I'm so compelled to help others as much as I am able. And in the end, I wish I could do more. In no way do I want anyone to go through the darkness that can be associated with mental illness all by themselves.
I realize I'm going to sound like an old fogey here, but when I was first going through my "stuff" there was no internet, blogs, social media or even cell phones. So connectedness was harder to come by with the exception of support groups that operated in the community (and even these were not as available as much as they are today). What that forced me to do was to learn, more on my own, how to manage my illness. There were no WebMD, Wikipedia, National Alliance on Mental Illness or Mental Health America websites (to name but a few resources). And even with these new innovations people still suffer.
I believe what it all boils down to is being in community with one another. One of the root terms for community from Old English is "fellowship." It is in this idea of fellowship that we can come together to share the love that can be so freely given and received. If a person feels loved, then they will be more likely to have the feeling that they are accepted and getting the support they so rightly deserve.
As the rock and roll prophet John Lennon so aptly penned, "All we need is love." Enough said.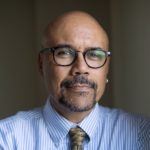 Karl Shallowhorn is the President and Founder of Shallowhorn Consulting,, LLC. He is also the Chair of the Erie County Anti-Stigma Coalition and serves as the Chair of Affiliate Relations for the Mental Health Association in New York State. He lives in Amherst, New York with his wife and their dog Sophie.