"In the washing of the water will you take it all away
Bring me something to take this pain away"
Peter Gabriel
In churches around the world we celebrate the day that Jesus was baptized by the prophet, John the Baptist. This ritual has been replicated for millennia since then and this means of consecration is a way for us as Christians to annually be reminded of our own baptism.
For me, I am reminded that while I have consistently participated in this ceremony, I can never be reminded enough about my own affirmation of faith through this action.
There is another symbolic practice that I also take part in annually, the celebration of my clean date. I began my journey in recovery from addiction to drugs and alcohol on January 17, 1988. This was the day that changed my life forever. I joined a recovery program which eventually served as the catalyst for my personal faith practice. This program is founded on the development of a relationship between oneself and one's "Higher Power." I have been blessed to have been clean ever since.
While I was raised in the United Church of Christ, my newfound belief was enhanced by my participation in the recovery group. I actually joined my church, Pilgrim-St. Luke's UCC that same year in June on Pentecost.
The years since have been full of experiences that have served to deepen my faith. While many of these experiences have been positive I've had more than my share of challenging situations, not which jeopardized my recovery, but did test my belief.
The beauty of a life in recovery is that one is able to experience everything as it comes, for better or for worse. In the program we call it "living life on life's terms." This practice requires a sense of diligence and perseverance. In many ways, those of us in recovery have had to develop a spiritual life that supports us through thick and thin.
There are also the concepts of "One day at a time," and "Just for today," (which basically have the same meaning). It's about living in the present. To me it also means that every day I am given an opportunity to "get it right." It's as if each day I am able to symbolically be washed in the water of the Holy Spirit. Every day I am reminded that, no matter what, God loves me. This infinite love helps me to know that whatever pain I may be in, it can be washed away.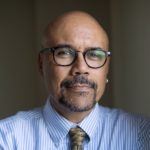 Karl Shallowhorn is the President and Founder of Shallowhorn Consulting,, LLC. He is also the Chair of the Erie County Anti-Stigma Coalition and serves as the Chair of Affiliate Relations for the Mental Health Association in New York State. He lives in Amherst, New York with his wife and their dog Sophie.