Therefore I tell you, whatever you ask for in prayer, believe that you have received it, and it will be yours.
Mark 11:24
I've been living with bipolar disorder for a long time. A very long time (over 38 years to be exact). So long ago that what I was prescribed is known as a "first generation agent." I won't go into specifics regarding what the medication is but suffice it to say, it isn't being prescribed much anymore. And this is where my dilemma lies.
I learned a couple of weeks ago that this med is on backorder at the manufacturer and will not be available until the end of July. At that time, I only had enough to last through June 1, or so. I called virtually every independent pharmacy, chain and grocery store in the metro Buffalo area. I even tried online with no luck. I was able to find a store in Niagara Falls that had 40 tablets. So, I drove the 30 minutes to get there, and I was, fortunately, able to get the last of what they had.
But this still left me with a potential shortage until the med is back online. "What do I do?" I asked myself. I've known for a while that this could be inevitable that these first gen meds would be obsolete. Is this the time to change medication? But this is where my sense of belief appeared as if God was saying, "Do not be afraid." I have a deep abiding faith in the magnificent work of our Creator. I have been in incredibly challenging situations throughout my life and have managed to get through them all.
I prayed and put this prayer into action. I'm fortunate in the work I do to have an incredible network of mental health professionals from whom I can obtain guidance. One is the director of a pharmacy at a Buffalo-area psychiatric institution. She too said that this, along with other first gen meds, are quickly becoming obsolete. She was able to provide me with information on first gen meds that can assist with my transition to a second gen med.
Another person is a friend who is an administrator at a local hospital. She advised me to continue to try to obtain the medication I've been on. She explained that, in her experience, she has seen people have difficulty transitioning to another psychotropic. I mentioned that one of the grocery store pharmacies I've used in the past had been able to let me know that their store in Brockport may have some of the drug. Brockport is about 45 minutes away from Buffalo.
I went to the grocery store pharmacy and, lo and behold, the Brockport store had 20 tablets…..AND it could be delivered to the store in my area! That would literally take me to the end of July.
Now mind you, I still have to have the conversation with my psychiatrist about the possibility of changing to a new medication. I have an appointment scheduled for June 17.
I haven't had a manic episode since 1995. With each successive year since then, I've gotten stronger, mentally, and emotionally. While there is a risk that I may encounter difficulty, whether it be acclimating to the med or potential side effects, I have to believe that I will be able to meet this challenge successfully.
We never truly know what the future will bring; however, when we are equipped with unshakeable faith, all things are possible through our Higher Power.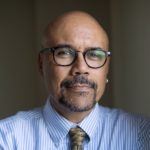 Karl Shallowhorn is the President and Founder of Shallowhorn Consulting,, LLC. He is also the Chair of the Erie County Anti-Stigma Coalition and serves as the Chair of Affiliate Relations for the Mental Health Association in New York State. He lives in Amherst, New York with his wife and their dog Sophie.