As I write for this blog, I find myself at a loss. I am amazed and astounded by the stories I read and which you share. Quite frankly, they blow me away. I feel like a pretender among truth-tellers. My story is based more on the struggles of family members who battle mental health conditions than my own struggles. As an advocate and family member, I am astounded by all the immense challenges people overcome and sometimes fail to overcome in the daily onslaught of the mind, body, and spirit.
On top of everything else, we are once again assaulted by a President who blurts out in the pain and aftermath of back-to-back mass murders that hate is a mental illness. Specifically, he said, "mental illness and hatred pull the trigger, not the gun." If only we had a "Commander-in-grief-relief" and not a "Commander-in-conflict-inducement," we would not have mental illness wrapped into this conversation. Nevertheless, we know someone would blame and shame the 46 million Americans with diagnosable mental illnesses and 11.2 million with serious mental illnesses. It is inevitable, based on past experience.
Hate is many things, but hate is not a mental illness. Hate does not carry a DSM-5 code. Hate is planted and reinforced. Hate is taught. Hate is learned. Hate is nurtured by a circle of family and friends who are close at hand or come into our circle by the internet and virtual realities.
As Amy Barnhorst noted in Psychology Today:
"Most of the time, mass shooters aren't driven by delusions or voices in their head. They are driven by a need to wield their power over another group. They are angry at the perceived injustices that have befallen them at the hands of others — women who wouldn't sleep with them, fellow students who didn't appreciate their talents, minorities enjoying rights that were once only the privilege of white men like them. It's not an altered perception of reality that drives them; it's entitlement, insecurity, and hatred. Maybe some of them also have depression, ADHD, or anxiety, but that is not why they opened fire on a group of strangers."
This dovetails with profiles of such shooters as Dylann Roof, the then-21-year-old white supremacist who killed nine African Americans at Emanuel Church in Charleston, S.C.
So much more could be said about hate not being a mental illness. Pete Earley wrote a beautiful piece for The Washington Poston August 8th, entitled, "No Mr. President. Hate is not a mental illness." I refer you to this great piece.
On the other hand, let us rejoice and celebrate how love is connected to mental healthiness. In a wonderful piece written for Time Magazine, entitled, "Five Ways Love is Good for Mental and Physical Health," Dr. Jamie Ducharme celebrates ways that love heals and adds to mental healthiness. First, love makes you happy. Second, love busts stress. Third, love eases anxiety. Fourth, loves makes you take better care of yourself. Fifth, love helps you live longer. All the evidence points to love healing and helping in our mental health and stability.
So, let us declare that Love Heals and can assist us as we pursue mental health and well-being. Let love conquer hate. Let hate to recede as love expands and embraces.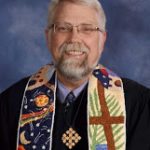 The Rev. Dr. Tim Ahrens is Senior Minister of The First Congregational Church, United Church of Christ, Columbus, Ohio where he has served since January 2000.  Ordained in 1985, Tim is a lifelong member of the United Church of Christ.