At the end of September, I was installed as Settled Pastor in the congregation that I serve, just north of Boston. That same month, my wife was promoted to CPT in the US Army National Guard. For each of these transitions there was ceremony and ritual. There was a laying on of hands for me. There was an entire formation of colleagues witnessing her promotion oaths. Each of us are blessed to serve in vocations that are rich with rituals that regularly mark our progression through our careers. Rituals are so important for people as individuals and also for communities. Rituals are important not only at moments of bridging up on a particular path. They are also important reminders of our connections with one another.
While many resources for churches regarding mental health/ illness in congregational life focus on pastoral care, rituals are a vital component of religious life that can be transformational and impactful for people living with mental health conditions. Very few spaces in our society offer rituals on a regular basis. There are AA and NA meetings, graduations at the end of school years, scouting. Aside from these moments, humans hunger for rituals, particularly physical ones, that make meaning of their lives as humans and in relationship with the Sacred. In church, we offer communion and baptism, we recite the Lord's Prayer together. What other rituals do we need to craft, offer, and practice that would be helpful for people living with mental health conditions?
I recently reflected on this passage by Monica Coleman, in her book Bipolar Faith (which I highly recommend!). Coleman writes extensively of the importance of spiritual rituals in her own experiences:
"Rituals were supposed to help. …rituals get into our skin and teach us about our deepest values. They reassure us of community. Professor Weems writes, 'Rituals are routines that force us to live faithfully even when we no longer feel like being faithful. Until our heart has the time to arouse itself and fits its way back to those we love, rituals make us show up for duty.' You take the wafer and juice. Eventually you learn that you are forgiven and can forgive. You pour water over children. Eventually you learn that community grows one person at a time. You go into buildings with people who share your faith, and eventually you learn that you are not alone in the world. And when the old rituals don't work, you create new rituals that embody the lessons and values you want to impart."
I appreciate that the rituals around death that we provide in our congregations can be echoed in rituals for people who have experienced trauma or a marked psycho-spiritual shift from one part of their life to the next. What might it look like to develop faith-filled, impactful rituals for our congregation to experience after times of trauma or experiences of mental distress? How might thoughtful rituals be a part of accompanying people living with mental health conditions?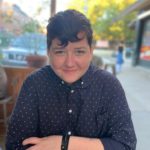 Rev. Dr. Ciarán Osborn (he/him)
Rev. Dr. Ciarán Osborn is an ordained minister in the United Church of Christ, serving in the Boston metro area. He has served as Pastor of several UCC churches in the Boston area as well as in clinical Chaplain positions. Throughout his ministry, Rev. Ciarán has officiated weddings, baptisms, and memorial services in the wider community.
Rev. Ciarán also lives with chronic mental health conditions. He writes, teaches, and preaches regularly on the topics of mental health, mental illness, and faith. Rev. Ciarán writes for the United Church of Christ Mental Health Network. Ciarán is a board game nerd and hiking and Krav Maga enthusiast. His family lives in the Boston area and they share their life with numerous dogs and chickens.