My friends, Ed and Jeff have lost a daughter and a son to suicide. Ed's daughter, Katie battled bi-polar disorder. Jeff's son Zach suffered with severe mental illness. Katie was 29 when she died. Zach was 43. Like so many of our family members who suffer, most people don't have a clue about the extent to which our loved ones battle to live each day. But unlike so many people who suffer and whose lives end sadly and too soon, Ed and Jeff and their families were honest about the pain with which children struggled.
They shared their honesty about their daughter and son in the obituaries published in The Columbus Dispatch. Katie's obituary appeared in August, 2016
Kathleen 'Katie' Marie Shoener, 29, fought bipolar disorder since 2005, but she finally lost the battle on Wednesday to suicide in Lewis Center, Ohio. So often people who have a mental illness are known as their illness. People say that "she is bipolar" or "he is schizophrenic." Over the coming days as you talk to people about this, please do not use that phrase. People who have cancer are not cancer, those with diabetes are not diabetes. Katie was not bipolar — she had an illness called bipolar disorder — Katie herself was a beautiful child of God. The way we talk about people and their illnesses affects the people themselves and how we treat the illness. In the case of mental illness there is so much fear, ignorance and hurtful attitudes that the people who suffer from mental illness needlessly suffer further. Our society does not provide the resources that are needed to adequately understand and treat mental illness. In Katie's case, she had the best medical care available, she always took the cocktail of medicines that she was prescribed and she did her best to be healthy and manage this illness – and yet – that was not enough. Someday a cure will be found, but until then, we need to support and be compassionate to those with mental illness, every bit as much as we support those who suffer from cancer, heart disease or any other illness. Please know that Katie was a sweet, wonderful person that loved life, the people around her – and Jesus Christ.
Zach's obituary appeared in March 2020.
Zachary John Daniels, 43, After years of battling severe mental illness, Zach ended his own life at his home on March 1. Zach was an intelligent, thoughtful man who loved his family above all. He was a skilled woodworker and loved the outdoors – especially fishing for salmon on Lake Huron. He was talented, kind, gentle, and loving.His pain has ended, and he now rests in peace with his Lord and SaviorLike many people who have a mental illness, denial, and a false understanding of his disease, coupled with shame, kept Zach from accepting the intense treatment he so desperately needed. The stigma of mental illness, and the all too common consequence of choosing to end one's life, can only be defeated when mental illness is discussed, accepted, and treated like any life-threatening physical disease. Ignoring or hiding mental illness will not make it go away. People living with mental illness are avoiding life-saving treatment because of the shame our culture places on victims of the disease of mental illness and their families. Talk openly about mental health; show compassion for those living with mental illness; call out the media for perpetuating stereotypes. Shame and stigma end when we end the silence.
I never knew Katie and Zach. I knew of them. I knew about them. I knew they were loved immensely by their families. I know they are missed every day. I also know that it takes great courage to publish obituaries that tell the truth about mental illness and its effect on your child. It takes great courage because when you put pen to paper to tell the story of your son or daughter who battled so hard and could not overcome the hardships of mental illness, your pen has to stay poised and the ink must flow with the truth of their story – the part most of us don't talk about and don't share aloud. It is a gusty move to be a stigma-buster in an obituary.
In one of the final scenes of "A River Runs Through It," Norman Maclean is asked by his father what he really knew about his brother who died so tragically and too young. He answers, "If you push me far enough, all I really know is that he was a fine fisherman." "You know more than that," Norman's father says. "He was beautiful."
Katie Shoener was beautiful. Zach Daniels was beautiful. In the end, that is what matters most of all.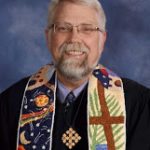 The Rev. Dr. Tim Ahrens is Senior Minister of The First Congregational Church, United Church of Christ, Columbus, Ohio where he has served since January 2000.  Ordained in 1985, Tim is a lifelong member of the United Church of Christ.