It is hard to believe that we are once again in the midst of Lent, a time of deep contemplation and spiritual renewal. Last year, Ash Wednesday would be one of the last services held at church with people in attendance, before we would be forced into a "new normal" that required social distancing and isolation from friends and family. As I reflect on that time, I remember my anxiety that was sparked in my inner being, not only by the thought of the disease that was spreading, but by the prospect of an endless stream of time without activity. I had created a life in which I was always in motion, in the constant pace of moving from one activity to the next. Constant motion had become my coping skill, a way to avoid thinking about and dealing with certain aspects of my life. Suddenly, all that activity had come to a standstill and I grew anxious that all that remained unresolved in my live would come rushing back to the surface.
However, instead of becoming a time of turmoil, this has been a time of hopefulness as I have learned to lean into the "new normal" of my life. Instead of being the empty time that I feared, this has been a time of great spiritual growth and mental restoration, through a renewed relationship with God in nature. During this slowness of time, I rediscovered the abundance of life found in the trees of my backyard, trees that welcomed a variety of weary birds to rest on their branches. These trees have been my salvation in my darkest moments, their branches swaying in the soft breeze of the Spirit moving through their leaves, that same breeze that reminds me that God is always with me. How many times has the Spirit made God's presence known to me, but I have been too busy to stop and feel it?
As the pandemic has worn on, I have been fortunate to be able to expand my wanderings to the shores of Biscayne Bay, where I often take my daughter for her own spiritual renewal after a day spent in online schooling. We have discovered an amazing variety of sea life right off the shores of the Bay. With each new discovery, we are reminded of God's spectacular imagination and intent to fill creation with a vast diversity of life that could only come from God. These moments have nourished my soul, helping to tend to my woundedness in a way that busyness never could.
Just last week, my wife and I were kayaking in a river in the Everglades, surrounded on all sides by God's creation. Along the shore, crocodiles lazily sunned themselves, while an Osprey flew overhead with food in its beak to take to its hungry children waiting in their nest. The water itself was alive with a variety of fish, as well as the occasional turtle. As we gently paddled along, we were blessed to cross paths with a family of manatee lunching on the vegetation found along the shore. As we paused, delighting in the beauty of the moment, the skies opened up, drenching us from head to toe in the water that God rained down on the river to maintain the spectacular abundance of life found there. As we paddled back the dock, our laughter met the sounds of the birds rejoicing in the rain. I felt alive in a way that the busyness of my life that I once relished never allowed me to feel. All the stress and tension in my body was released into the river as I allowed myself just to be in God's presence.
While I do look forward to life beyond the pandemic, I have no desire to go back to the constant busyness that I once reveled in, a busyness that I now realize blinded me to God's constant presence in my life. I no longer fear the space created by time untethered to specific tasks or activities. Instead, I relish the times when the rush of life around me stills, leaving space to hear God calling me out to play on the river, with the gentle manatee as my guide.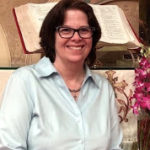 Rev. Lisa LeSueur is the Pastor of Congregational and Staff Care at Coral Gables United Church of Christ and a member of the Board of Directors of the UCC Mental Health Network. She serves as the UCC Florida Conference WISE Mental Health Coordinator and the Suicide Prevention Initiative Coordinator for Nami Miami. She lives in Coral Gables, Florida with her wife and their two children.