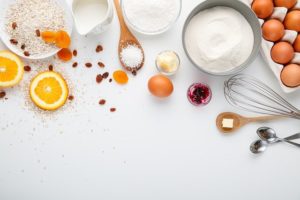 I love watching baking competitions shows. The baking itself is amazing and to watch the group dynamics and the silliness of the judges, just makes me happy. I've also learned a lot about baking that has improved what comes out of my own kitchen. The funny thing is that I can't have any grains or any dairy at all. Still, I've been known to try to recreate some things I see in these shows in my own kitchen. I know this isn't a major confession and it's nothing to be embarrassed about. Mostly, it's a way for me to take care of myself in these stress-filled, exhausting days.
For many years I took care to hide my mental and physical health challenges. I didn't want anyone to know that there was anything "wrong" with me. I became an overachiever and let people think that I could handle whatever came my way. I'd like to say that these days were long ago. They weren't. I've become really good at discussing my mental health history – my struggles with an eating disorder, PTSD, depression, and suicidality. I can talk about these things because they are mostly in my past. Yes, PTSD shows up now and then. Yes, I can easily give into despair that could become depression. However, the worst of it is not in my present. And I am grateful.
What is present for me is the limitations of my body. After decades of misdiagnosis and dismissal by many doctors, (the biases against women in healthcare is another essay altogether) I was diagnosed with dysautonomia and several other things. I've had surgery to correct double vision and I have a pacemaker. I live with fatigue and joint pain and unpredictable tendonitis. Sometimes I need to use a cane. It was a few years ago that my doctor told me to get a foldable cane and carry it with me everywhere. It was only this summer that I "gave in" and got one. I didn't want to be judged as "disabled."
A very long time ago, I learned that part of being Christian meant being perfect. I think this is one of the biggest myths in Christian theology and teaching. The Greek word, teleios, means something closer to "whole" or "complete." We tend to think of perfection as being flawless. Who can actually be flawless? No human being for sure. However, we can be whole and bring our whole selves to whatever we're doing. Jesus certainly was a fan of wholeness, completeness. Perhaps we can let go of seeking perfection and seek wholeness instead. Imagine a world in which we showed up with our whole selves, loved with our whole selves, and allowed our whole selves to be known and loved. Doesn't this sound better than trying to conform to the perfectionistic ablism the church has typically embraced?
I don't want to feel like I have to hide any part of myself – whether it's the anorexic depression of my youth or the fatigue and physical pain of now. I truly believe that God sees my wholeness, our wholeness, especially when the world only sees brokenness. This freedom, this trust in God's love and abundance, has allowed me to seek help when I need it, ask for prayers when I am feeling discouraged, and to allow myself the simple pleasure of baking competition shows. I hope you also find freedom in your wholeness, no matter what the world judges as broken. God celebrates us and makes us whole right now, this very moment. How awesome is that?!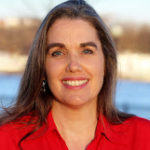 Rev. Dr. Rachael Keefe is an author, and the pastor of Living Table United Church of Christ in Minneapolis, MN. You can find links to her blog, video series, and books at Beachtheology.com