It's an often repeated truth that the more support a trans or gender expansive person receives regarding their gender identity, the less likely they are to experience suicidality. This has been the case in my own life and in the lives of so many of my friends and colleagues. The intersection of gender identity and mental health is an important arena to explore. It's an intersection that has the power to save lives, or to cause great harm. For today's UCC Mental Health Network blog post, I bring you a short list of things you can do to be affirming and supportive of trans and gender expansive people in your life:
Don't assume you know who is trans. Assume instead that anyone could be and that the way you speak about trans people will be heard directly or indirectly by someone who is trans.
Do your own research. Don't ask your trans colleague to divulge the details of their testosterone injections to you. Instead, do your own research re: trans experiences. And, if you have a desire for a direct conversation, ask questions from a place of support rather than education seeking.
Don't assume that coming out is always joyful. Coming out can be an extremely exciting and wonderful time in the life of a trans person. But, it can also come with extraordinary loss and grief, as relationships are strained and people encounter rejection from people or institutions that are important to them. Celebrate and thank someone for their truth-sharing. But, don't assume you know the whole of their experience.
Do offer to accompany. Offer to come with your trans loved one to their appointments, to bless them and pray for them, to be a listening ear when parts of their transitioning process are difficult.
Don't get nosy about medical things. Medical information is private and not all trans people choose to undergo medical interventions as part of their transitioning process. Respect an individual's choices.
By engaging in the above five recommendations, you can begin to cultivate a supportive and affirming presence for trans and gender expansive people in your life. But, don't stop here. Continue to work on your own societally-given scripts regarding gender and its intersections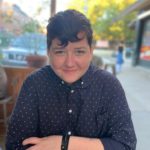 Rev. Dr. Ciarán Osborn (he/him)
Rev. Dr. Ciarán Osborn is an ordained minister in the United Church of Christ, serving in the Boston metro area. He has served as Pastor of several UCC churches in the Boston area as well as in clinical Chaplain positions. Throughout his ministry, Rev. Ciarán has officiated weddings, baptisms, and memorial services in the wider community.
Rev. Ciarán also lives with chronic mental health conditions. He writes, teaches, and preaches regularly on the topics of mental health, mental illness, and faith. Rev. Ciarán writes for the United Church of Christ Mental Health Network. Ciarán is a board game nerd and hiking and Krav Maga enthusiast. His family lives in the Boston area and they share their life with numerous dogs and chickens.