I am at a Christian youth camp in Texas for Juneteenth this year. According to the New York Times, "On June 19, 1865, enslaved African Americans in Texas were told they were free. A century and a half later, people across the U.S. continue to celebrate the day, which is now a federal holiday."
As a church, we are learning and growing as we help create communities of peace, justice, and love. Learning more about the history of racism in our country is an important part of the work of the church. Here is a special Juneteenth program "Revealing Hidden Histories" offered by the national UCC to learn more:
This year the United Church of Christ launched the "Join the Movement" campaign to help guide us all in the personal and collective work of racial justice for all. The focus is on the power of stories to share our diverse experiences with one another. I encourage you to check out the Join the Movement website and sign up for updates.
In the midst of the trauma of our nation's history and the current traumas impacting us today, we can see the important role of mental health and wellness in the work of racial justice. Discrimination, racism, and oppression cause stress, anxiety, fear, and despair in our communities. God calls us as followers of Jesus to offer support, compassion, and care for one another. This could look like getting professional help like therapy, taking medications, or going to a support group, or simply and opening up to share with others about our emotions, feelings, and thoughts.
Mental Health justice means we (1) advocate for ending the stigma of mental health challenges, (2) advocate for mental health awareness and education, and (3) advocate for quality, accessible, and affordable mental health care for all. Our churches can be sanctuaries for the mind, as well as the body and spirit. What if all of our churches were safe places to say "It's okay to not be okay" and to get some help? What if the church was a source for hope and healing for the world?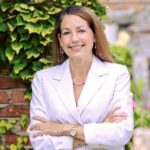 Rev. Dr. Sarah Lund (she/her/hers)
Rev. Dr. Sarah Lund (she/her/hers) serves on the national staff of the United Church of Christ as Minister for Disabilities and Mental Health Justice. She also serves as senior pastor of First Congregational UCC of Indianapolis, IN. Sarah is the author of the acclaimed and best selling books "Blessed Are The Crazy: Breaking the Silence About Mental Illness, Family and the Church" (Chalice Press, 2014) and "Blessed Union: Breaking the Silence About Mental Illness and Marriage (Chalice Press, 2021). She blogs at www.sarahgriffithlund.com.