Beginning on Netflix in July 2016, Stranger Things is a psychological thriller set in the fictional rural town of Hawkins, Indiana, during the 1980s. The nearby Hawkins National Laboratory ostensibly performs scientific research for the United States Department of Energy, but secretly does experiments into the paranormal and supernatural, including those that involve human test subjects – all of whom are children. During the course of their experiments, and more likely BECAUSE of their experiments, the scientists unleash a portal to an alternate dimension, "the Upside Down." The influence of the Upside Down starts to affect the unknowing residents of Hawkins in calamitous ways as the creatures from the Upside Down come through the portal and into our world. The Upside Down is a complete inversion of the world above in Hawkins, Indiana. But, the Upside Down world is terrifying, dangerous, and destructive. It mirrors normal time and space but as a "shadow side," an evil side. Having completed four seasons, all Stranger Things fans (including me) are waiting for the arrival of Season 5.
In recent months, "Stranger Things" has come to church.
I feel like I have been living in the Upside Down. Some portal has opened and we are all being affected. Call it the long-term effect of the COVID pandemic, call it the unleashing of a lying, challenging culture unleashed by Donald Trump, call it what you will – it is different than anything I have experienced in church in 64 ½ years of life in the faith. I have begun to use words about life in church that I have never used before – "Strange," "weird," and most often "bizarre" in relation to behaviors, actions and communications that have transpired in what I only referred to before as "our beloved community." Instead of singing, "There's a Sweet, sweet, spirit in this place, and I know that it's the spirit of the Lord…" I have been whispering, "there's a strange, strange spirit in this place and I know that it is NOT the Spirit of the Lord…"
If I walked you through it, you would have jaw-dropping responses to stranger things like these:
90 year old women saying "WHAT" to their pastor?
Children hiding behind their parents for what reasons?
Emails calling you all but the son of Satan based on what evidence or reason and bullying you to leave and go away delivered by people who used to stand with you in upbuilding the body of Christ?
Choir members turning their backs as you lead Holy Communion?
Lies being told about you from unknown sources and spread through social media by members who act like assassins and not like sisters and brothers in Christ?
Like the show "Stranger Things," the heroism needed to challenge and combat these behaviors and this strangeness has come from unlikely sources. People who are sensitive to being excluded have stepped into the light of God and spoken up and spoken out. Those who battle mental health concerns, those who have overcome suicide attempts and lived to tell the story, those who are LGBTQIA, those who had previously left church and returned because of the compassionate and extravagant welcome of our congregation but will not run away again because they are intimidated by others in the church – all have stepped up to challenge the spirit coming from the Upside Down.
It reminds me of Jesus and his bedraggled band of believers. They were not the power brokers and religious leaders of their times. They were not the "good people" of their communities. They were dirty, stinking, fishermen and tax collectors. They were shepherds and women whose presence was unwelcomed and whose testimonies were ignored. They were poor people from the hills and impoverished sections of towns and cities. They were the geeks and misbegotten. They were "the crazy ones" and the left behind ones. They rose up and they stood up to the creatures from the Upside Down. That is the story of faith. It is also the story of the kids and the unpopular parents of Hawkins, Indiana.
If "Stranger Things" have come to your church – write me about it – tahrens@first-church.org or call me – 614-228-1741, ext. 13. I want to figure out – with your help – how to close the portal and send the creatures which have overtaken our beloved communities back to the underworld from which they came.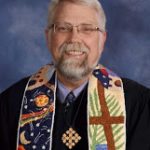 The Rev. Dr. Tim Ahrens is Senior Minister of The First Congregational Church, United Church of Christ, Columbus, Ohio where he has served since January 2000.  Ordained in 1985, Tim is a lifelong member of the United Church of Christ.