"Now when Job's three friends heard of all this adversity that had come upon him, they came each one from his own place, Eliphaz the Temanite, Bildad the Shuhite and Zophar the Naamathite; and they made an appointment together to come to sympathize with him and comfort him. When they lifted up their eyes at a distance and did not recognize him, they raised their voices and wept. And each of them tore his robe and they threw dust over their heads toward the sky. Then they sat down on the ground with him for seven days and seven nights with no one speaking a word to him, for they saw that his pain was very great." Job 2:11-13
I've never met anyone who has enjoyed being in the hospital. The often times uncomfortable beds, horrible food and never ending prodding and administration of medication can be terribly difficult to deal with.
But do you know anyone who has been in the psychiatric unit of a hospital (or a stand alone institution)? This can be a very traumatic experience. First, for the patient who is incapacitated in some form or fashion, simply being admitted through the emergency room can be extremely distressing. Then taking into consideration the actual hospital stay, this experience can be hard to deal with as well.
I know all too well about this is like. When I was in the throes of my active bipolar symptoms I had to endure the many facets of being a psychiatric patient: sleeping in an unfamiliar place, lining up for medication, and sitting in the "day room," the place where patients and families would often congregate.
Being in a psychiatric institution can be a very lonely experience. The feeling of despair and hopelessness can produce a sense of fear – fear that can be overwhelming. The belief that things are not going to get better accompanied by whatever symptoms got you there in the first place. Yes, there are others present: mental health workers, nurses, doctors, occupational and art therapists, and, of course, the other patients.
But despite being surrounded by all of these people it is still possible to feel alone. This is where support is needed – in a significant way. Even having someone to visit for 30 minutes can be extremely beneficial. This person doesn't have to do much aside from being present. The ability to communicate a sense of hope in this manner can go a long way.
I remember during my many hospitalizations my Dad would visit me nearly every day. I can still see his face as he walked through the locked doors of the unit with a smile on his face. I can only imagine how hard it must have been to display this show of emotion, but I also know how much it meant to me. Honestly, I don't even recall what we talked about. But that isn't the main thing. It was his presence that mattered.
As a Christian I try to follow, to the best of my ability, the teachings of Jesus and more importantly his example of how to care for others. I think that's why I ended up pursuing the career I've had as a substance abuse professional and mental health advocate. I know what it's like to suffer and need others to hold me up when I'm incapable of doing so myself.
In the Book of Job, the protagonist finds himself suffering interminable pain and misfortune. But he also has the good fortune of having friends that are willing to join him and be present. As the scripture states, "…with no one speaking a word to him."
I do understand that entering a psychiatric hospital or unit can be very uncomfortable, if not frightening, for some people, however the opportunity to brighten someone's moment by visiting can make a huge difference. When I've done so, it certainly brings up feelings from my past, although I can leave when I'm ready. In the end I get a sense that just maybe I've helped the other person.
Being able to empathize with those we know who may be hospitalized in this kind of setting can help us to know that there is something we can do. We can follow the example of the friends of Job, or Jesus himself. It can mean a lot to the person we are seeing. To know that they are not forgotten. To know that they are not alone. To know that the simple act of visiting is a manifestation of Christ's love.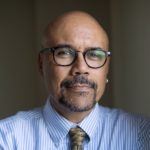 Karl Shallowhorn is the President and Founder of Shallowhorn Consulting,, LLC. He is also the Chair of the Erie County Anti-Stigma Coalition and serves as the Chair of Affiliate Relations for the Mental Health Association in New York State. He lives in Amherst, New York with his wife and their dog Sophie.