Did you know that last week was Maternal Mental Health Awareness Week?
I knew that May is Mental Health Month, and that we at the UCC Mental Health Network are encouraging congregations to recognize Mental Health Sunday. But one of the blessings for me of social media has been learning about Maternal Mental Health Awareness Week. As I've written about on this blog before, I've become a mom in the last year, and I am more aware of the value and necessity of talking about maternal mental health, as one of many ways of de-stigmatizing mental health/illness for everyone.

My favorite thing that I saw last week was #highlowmum. At least on Instagram, there are 442 posts that include this hashtag, with moms writing vulnerably about their own experiences with maternal mental health- from postnatal psychosis to postpartum depression to challenges that maybe don't include a diagnosis and more. Then, they also wrote about at least one "high" and one "low" from their experience of motherhood. The majority of these posts are explicit about wanting to remind others that parenting is hard and many parents struggle with their mental health.
I don't think I truly understood before what it is like to be a new parent when everyone has an opinion about the way one should raise a child or be a parent or be a mom. And, while I don't spend much time (comparatively) on social media, the messages there are often even more intense, including posts that try to depict parenting as always beautiful and easy. As a people-pleaser, and someone who is already prone to depression and anxiety, I've found this to bring a particular challenge to parenting. Compounded by hormone fluctuations, frequent sleep deprivation, and the myriad other adventures that are part of parenting my baby, and I've found myself in the midst of many hard days and weeks, even with plenty of glorious moments mixed in.
So, in the days after this Maternal Mental Health Awareness Week, I am grateful for those who have been vulnerable in sharing on social media, and for the ways in which their stories have made me and others feel less alone. I'm grateful for the ways that movements or weeks such as this can help to de-stigmatize conversations about and experiences of mental health struggles more broadly. May we always be looking for new ways to do this important work of stigma busting and supporting those around us who need our support and love.
Tender Mother God, today we lift up prayers for mothers, that all mothers feel held and loved through all of it, through the heartbreak and the mental health struggles and the joy, through the highs and the lows. We give thanks for those who vulnerably share their stories so that others can feel less alone. We're grateful for your tenderness and love. Amen.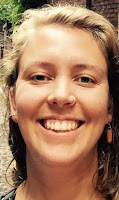 Hannah Campbell Gustafson
Hannah Campbell Gustafson and her family recently made a leap of faith and moved to Minneapolis, MN from rural Wisconsin.  She is the outreach coordinator at Plymouth Congregational Church.  Hannah is treasurer for the Mental Health Network, is trained as a social worker, has an MDiv, and is a Member in Discernment with the Southwest Association of the Wisconsin Conference of the UCC.  She and her partner (an ELCA Lutheran pastor) share their lives with their young child Leona and their standard poodle puppy Óscar.