I grew up in a small town in North East San Diego county, in Southern California. I went to the neighborhood elementary school. Each day my fellow classmates and I would line up with our square plastic lunch boxes. Mine typically featured some Ninja Turtle imagery on the sides. We would march down to the school cafeteria and then line up behind the long benches we were to sit on. Over the loudspeaker, one of the cafeteria monitors (always someone's mom) would yell "Give me eight!" That was our cue to recite a chant along with all our schoolmates.
Each day before we were free to sit down and unwrap our foil covered turkey sandwiches and trade our dunkaroos, we would recite the school values in sing-song voices. "Respect, Responsibility, Honesty, Hard Work, Patience, Kindness, Strength, Tolerance." Tolerance was held up as a community value we mid-90s kids were asked to honor.
Tolerance, while a bit better than outright violence, doesn't lead to healthy and whole communities in which all people's inherent worth and value are honored.
Tolerance, a value held up as the ideal for so many of us at various points in our lives is not enough.
It is not enough for those who are living on the margins of society seeking to be validated in their full humanity.
It is not enough to tolerate one another.
We are called to become beloved community where we are affirming and inclusive of all. This means being affirming and inclusive of people with mental illness just as we are of neurotypical folks. Jesus' Gospel message compels us to love one another and that true love doesn't look like tolerance. It looks like truly seeing one another, in our full humanity and then choosing full affirmation. It looks like creating spaces where people can be open about their mental health, can ask for help when they need it, can show up just as they are each Sunday morning– not as they think they ought to be.
Let's stop tolerating those with mental illness.
Let's start affirming.
In the pews and in the pulpits.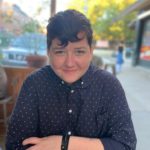 Rev. Dr. Ciarán Osborn (he/him)
Rev. Dr. Ciarán Osborn is an ordained minister in the United Church of Christ, serving in the Boston metro area. He has served as Pastor of several UCC churches in the Boston area as well as in clinical Chaplain positions. Throughout his ministry, Rev. Ciarán has officiated weddings, baptisms, and memorial services in the wider community.
Rev. Ciarán also lives with chronic mental health conditions. He writes, teaches, and preaches regularly on the topics of mental health, mental illness, and faith. Rev. Ciarán writes for the United Church of Christ Mental Health Network. Ciarán is a board game nerd and hiking and Krav Maga enthusiast. His family lives in the Boston area and they share their life with numerous dogs and chickens.