Mental health is not a single state of being or a condition of mind or brain. It is a concept, a journey, and one that is perhaps best traveled with others who have traversed the roads before us. Author of a text on mental health and illness in the church more than 60 years ago, Howard Clinebell says "Mental health is more of a road than a goal. It is a movement in a certain direction, not the achievement of a psychological halo". Church communities are uniquely positioned to meet people where they are, no matter their mental health status, bringing them into a supportive community.
The concern of mental illness and the contemporary Christian church community is not a new one. Sometimes it helps to look back in (not-too-distant) church history to discover the ways in which our present call to mental health ministry in the church was being discussed in another time. In 1965, Howard Clinebell wrote a text in which he highlighted three central themes:
Mental health is a central and inescapable concern of any local church that is a healing-redemptive fellowship.
A local church today (my note: in 1965!) has an unprecedented opportunity to multiply its contributions to both the preventative and therapeutic dimensions of mental health.
A church can seize this opportunity most effectively by allowing mental health to become a leavening concern, permeating all areas of its life. When this occurs, the spirit of Christian community flourishes in the many facets of a church's program, causing it to become a center of healing and growth.
I would argue that what Clinebell observed above likely holds true for many 2020 congregations. We have an opportunity to be both preventative and therapeutic in our congregations. And perhaps the word 'therapeutic' could be helpful for congregations looking to shed the language and power differential of 'fixing' in favor of a more equitable and cooperative Christian fellowship.
To view our communities as spaces of healing and/or growth can be met with resistance from those who focus primarily on ministry outside of the community. However, in order to do such (often good and sacred) work, we must equip our disciples to go out into the world. That means fostering church communities that are therapeutic, healing and growing. Often an obsession with work outside of our church walls can mask a discomfort we have with seeing our own congregations as full of people who are deeply hurting. Healing is needed in our own church walls. It is often a challenging journey to heal together from the shame and stigma of mental health conditions in the church. But, it is necessary and liberating work. We are meant to heal the world on behalf of Jesus, and part of that world is our own churches.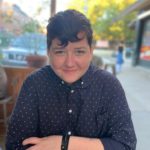 Rev. Dr. Ciarán Osborn (he/him)
Rev. Dr. Ciarán Osborn is an ordained minister in the United Church of Christ, serving in the Boston metro area. He has served as Pastor of several UCC churches in the Boston area as well as in clinical Chaplain positions. Throughout his ministry, Rev. Ciarán has officiated weddings, baptisms, and memorial services in the wider community.
Rev. Ciarán also lives with chronic mental health conditions. He writes, teaches, and preaches regularly on the topics of mental health, mental illness, and faith. Rev. Ciarán writes for the United Church of Christ Mental Health Network. Ciarán is a board game nerd and hiking and Krav Maga enthusiast. His family lives in the Boston area and they share their life with numerous dogs and chickens.