Church life is like a holy learning laboratory where we endeavor to understand God's call for us. It's a lab in which we struggle and experiment and grow to learn how to be in right relationship to ourselves, one another, God, and creation. It's a space in which we learn how to be true to ourselves. These are goals common to most all people- those with mental health conditions and those without. The difference is that those with mental health conditions often labor and work on these components of the social self with more intensity and intentionality than the general public. People with mental health conditions often go to therapy, deal with the fallout of changing relationships due to their mental conditions, have often endured trauma and live in the thin spaces of life more often than the general public. We can all learn from the wisdom and realness of these people who are acquainted with the rougher parts of the human psychological experience. I find that some of the most honest truth-tellers in my own pastoral ministry have been those actively living with mental health conditions.
It's the person looking me in the eye and telling me that they feel the Spirit so intensely, that the Holy Spirit runs through her veins endowing her with the power to see the beauty in all of creation.
It's the person who comes into my office and tells me they've met Jesus in their darkest moments, that he's come to them in their suffering.
It's the person who says plainly that they are struggling to stay sober that day but just for that day, they will not drink.
It's the person who doesn't just robotically answer "I'm fine" when you ask how he is doing.
The people who live and struggle and pray and work and play while mental illness stirs around in their brains are truth tellers, living authentically and vulnerably because it is their only option. Their wellness often depends on their authenticity and honesty and for their presence and influence on the wider congregation, I am so grateful.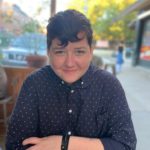 Rev. Dr. Ciarán Osborn (he/him)
Rev. Dr. Ciarán Osborn is an ordained minister in the United Church of Christ, serving in the Boston metro area. He has served as Pastor of several UCC churches in the Boston area as well as in clinical Chaplain positions. Throughout his ministry, Rev. Ciarán has officiated weddings, baptisms, and memorial services in the wider community.
Rev. Ciarán also lives with chronic mental health conditions. He writes, teaches, and preaches regularly on the topics of mental health, mental illness, and faith. Rev. Ciarán writes for the United Church of Christ Mental Health Network. Ciarán is a board game nerd and hiking and Krav Maga enthusiast. His family lives in the Boston area and they share their life with numerous dogs and chickens.