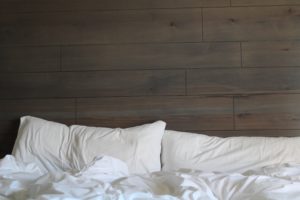 Our 2.5 year old daughter Leona sleeps in our bed. It is what is right for our family, and while there are challenges, overall it has been a gift to practice bed sharing.
In a few weeks, Leona will transition out of the toddler room at her Montessori school to a room with children ages 2.5 to to age 6. She's incredibly excited and ready for the transition. My spouse and I have also been aware of some bumpier nights lately, which often happens during times of transition or developmental leaps.
The other night at about 2am Leona started loudly crying about wanting to turn the light on and read her books in the bed. It took a long time for her to calm down, which was both frustrating and jarring for my spouse and me. We tried lots of things that usually work, and I too was tearful due to her upset. Finally, she let me pull her close, and she was face to face with me on the bed, with our noses and foreheads touching. My arms were around her and I was whispering "shhh, shhhhhh." Her hand stroked my face. We both fell asleep like this.
As a person with anxiety, there are always things that make me anxious. But these days, I experience anxious moments even more frequently, with the COVID pandemic, my increasing awareness and understanding of white supremacy culture and my white privilege, political chaos, job uncertainty, and more. I know I'm not alone in this.
Today I've been reflecting on the moments that remind me that I am loved- by God, and by those around me. I'm going to carry the image of those moments last night with me for a long time, as a way to visualize God's love for me. For now, at least, God's love looks and feels like a close and safe embrace, with God's voice reminding me that I am loved.
I'm not meaning to suggest that these moments erase my anxiety. But I do know from my experience that moments of reflecting on and feeling love are crucial to my mental health and my spiritual well-being. So again today I thank God for these reminders of my belovedness, and hope that you experience them, too.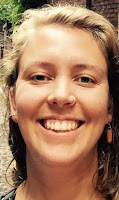 Hannah Campbell Gustafson
Hannah Campbell Gustafson and her family recently made a leap of faith and moved to Minneapolis, MN from rural Wisconsin.  She is the outreach coordinator at Plymouth Congregational Church.  Hannah is treasurer for the Mental Health Network, is trained as a social worker, has an MDiv, and is a Member in Discernment with the Southwest Association of the Wisconsin Conference of the UCC.  She and her partner (an ELCA Lutheran pastor) share their lives with their young child Leona and their standard poodle puppy Óscar.