It has been 18 months since I have written for this blog. As I read the powerful and thoughtful words of contributors to the UCC Mental Health Network blog, I am struck each week by the honesty, the vulnerability and the depth of each writer. They are stories of struggle and victory, stories of parenting and pastoring in a pandemic while facing mental health challenges. Some of the stories and poetic words are so gripping that I find myself in tears and always find myself looking out my window meditating on the lives and witness of stigma-breaking authors. To all who write, thank you.
With hesitation, I join your ranks again. I come alongside you as a family member of a child with mental health concerns and a pastor who is learning and listening. I come as one who has tried to ride with others in their terror and fear while navigating the white waters of and crosscurrents of mental health's wild rides. Through NAMI and friendships and through showing up on behavioral health units with children, youth and adults, I have learned to be still and pay attention. By being present in friendship and care for and with parents whose child has died by suicide, I have learned to speak little and then to speak even less. Through the pandemic I have tried to be there – from a social distance – for people suffering from loneliness, isolation, separation anxiety and too much news with too little filtering process with people who care about them.
Through it all, I also carry my own burdens and pains. I am not just a caregiver. I am also in need of care. I am not just a pastor; I also need the healing touch of those who share compassion with others in this world. I give. But I deeply need to receive, too.
I recently received two books for which my friend, Deacon Ed Schoener was editor. They are – When a Loved One Dies By Suicide and A Pastoral Handbook for Catholic Leaders. Ed tells the story of how his faith healed him spiritually following the death of his daughter Katie by suicide. He was with his wife Ruth, his sons Ed and Rob and Rob's then fiancé (and now wife) Katie. They were on the Camino de Santiago, "The Way of St. James" in northern Spain. Often called "the Camino" or "the Way," is has been a place of pilgrimage for over a thousand years. It was on the journey that each family member found healing – each in their own way, at their own pace and in their own space.
Ed writes, "to heal you must set your intentions to heal. You must begin the journey of healing and find your own way. You must put one foot in front of the other even on days when you may not want to get out of bed. Your healing journey is not some random walk. Like the Camino, it is an intentional pilgrimage to find Christ in your suffering and let Christ heal you. And one day you will arrive at your destination and find healing."
All I can say is I am on the journey. I am with you on the journey. I will not abandon you on the journey. And with Christ by our side, we will walk with each other. What is written is true. "With Christ, all things are possible." We will reach our destinations. We will heal.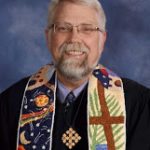 The Rev. Dr. Tim Ahrens is Senior Minister of The First Congregational Church, United Church of Christ, Columbus, Ohio where he has served since January 2000.  Ordained in 1985, Tim is a lifelong member of the United Church of Christ.