"Jesus wept"
John 11:35
What is known as the shortest verse in the Bible is also the most profound. This simple sentence says so much about Jesus' identification of being "in the flesh." When I think about this verse, I am drawn to the questions about Christ's boundless empathy for others. If there was someone who could understand the complete human experience, it was Him.
But this piece of scripture makes me think of how Jesus has a deep sense of concern and compassion for the world, including those living with a mental health challenge. There are some people who would challenge this by saying, "If Jesus existed, why do so many people suffer with mental health conditions. Why can't they just believe in him and be healed?" I don't have an answer to this question except to say that Jesus suffers with us in our time of struggle.
In the years that I faced my own issues with recurring psychotic bipolar disorder episodes I would pray and read the Bible, even to the point of developing a religiosity-based mindset. This hyperarousal of my spirit was driven by my deep desire to be relieved of my malady. I would even go so far as to call the 700 Club prayer line and avidly watch The World Tomorrow, an apocalyptic TV program hosted by televangelist Herber W. Armstrong (I even subscribed to the free companion magazine, The Plain Truth). I was looking for any way to connect with God to be delivered from the horrible life I was living. I was desperate to be healed.
In other instances, when I was hospitalized at the Buffalo Psychiatric Center I had taken my confirmation Bible with me that had my name inscribed on the cover. One day I couldn't find it and after searching for it, I discovered that it had been destroyed in one of the showers on the unit. I was crushed. And I also knew that I had to find a way out of this madness. Years later, with the help of many people, I did.
When I look back on those days, I do believe that Jesus was with me. I believe that he worked through the individuals who supported me when I was "lost in the wilderness." Such people as Rev. Phil Smith, the pastor who had confirmed me. Rev. Smith would take my late night phone calls and even visit me when I was hospitalized. And Greg Barber, who I had known since I was four years old. Greg's wife, Linda, was my babysitter. I would regularly stop by their house unannounced and Greg would counsel me and provide me with heavy doses of encouragement. And of course, there was my family: my parents, my aunts, and especially my cousin Carolyn, who is more like my sister. In addition, there were the mental health professionals, most notably my counselor Dick Heffron, who worked for a local behavioral health agency, Horizon Health Services
So, while Jesus wept for me during my times of pain and despair, He also was present in the acts of those in my life who helped me to triumph over my condition and discover a life that I thought could never be possible.
My question to you is this, "Where do you see Jesus in your life?" And if you do not feel His presence, where are you looking? You may not realize it but He might be right in front of you, shedding a tear and feeling your pain. Amen.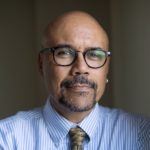 Karl Shallowhorn is the President and Founder of Shallowhorn Consulting,, LLC. He is also the Chair of the Erie County Anti-Stigma Coalition and serves as the Chair of Affiliate Relations for the Mental Health Association in New York State. He lives in Amherst, New York with his wife and their dog Sophie.