The other day I was shopping at a local store when I came across an entire display of items, everything from pencils to tote bags, that dripped with messages of toxic positivity. These items commanded the reader to "be happy". In the midst of depression, anxiety, or other mental health conditions, one of the last things that a person needs to read or hear is a command to just feel better, happier, or less anxious. Unlike the messages on these items for sale at the local store, I find that a positive exercise in gratitude can be truly effective and grounding. And so, in an effort to share some positivity from a deeper well, I'd like to share three gratitude exercises that I have found helpful in my own life and I hope might be helpful for you as well. 
Gratitude Shout Outs: This gratitude practice consists of sharing what you are grateful for in the people you are with. For example, every night at dinner, my family starts our meal by naming aloud what we are thankful for that the others at the table did. We'll say "thank you Mark for making dinner" or "thank you Carly for being a person who lives out your values in tangible ways". We try to be specific and in doing so we build our gratitude muscles and become more and more comfortable naming what we are grateful for to people. As a bonus, sometimes a gratitude ritual or routine shared with others can be easier to keep up than a gratitude routine that you do solo. 
Gratitude Art: Consider creating or finding a piece of art that brings you into a feeling of gratitude every time you look at it. Ideally, this is a piece that doesn't stir up guilt or anxiety, but rather something that reminds you of awe and thankfulness. Put it someplace where you'll see it often. In my case, I have a tattoo of three birds that reminds me of the fact that if all I can do in a day is thank God for the beauty of nature that I encounter, that is more than enough. 
Gratitude Letters: Try sitting down to write a letter to a person in your life who has profoundly influenced you. See if you can write, at some length, about the specific ways in which this person has changed your life for the better. Studies have found that in writing such a letter, our senses of groundedness, connection, and gratitude can flourish. 
I wish you all the best in your gratitude journey and hope that as you connect with deep gratitude and thanksgiving, you find yourself in clearer connection with yourself, others, God, and creation.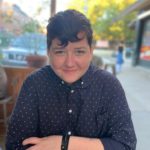 Rev. Dr. Ciarán Osborn (he/him)
Rev. Dr. Ciarán Osborn is an ordained minister in the United Church of Christ, serving in the Boston metro area. He has served as Pastor of several UCC churches in the Boston area as well as in clinical Chaplain positions. Throughout his ministry, Rev. Ciarán has officiated weddings, baptisms, and memorial services in the wider community.
Rev. Ciarán also lives with chronic mental health conditions. He writes, teaches, and preaches regularly on the topics of mental health, mental illness, and faith. Rev. Ciarán writes for the United Church of Christ Mental Health Network. Ciarán is a board game nerd and hiking and Krav Maga enthusiast. His family lives in the Boston area and they share their life with numerous dogs and chickens.