There is so much I don't know.
When I have the opportunity to share some of my story and experiences with churches and faith communities, the most common questions I receive are also the hardest to answer. The questions about how to help a loved one who doesn't seem to want help or know how to receive help. The most honest answer to these questions seems the least helpful: I don't know.
Not knowing the context, not knowing the people involved, often, in the era of Zoom, speaking from a great distance, I don't always have helpful advice. There are resources I can offer – Mental Health First Aid trainings; the National Suicide Prevention Lifeline, now reachable by dialing 988; my own story of getting help. But those resources, vital as they are, are not magic wands, not simple solutions to complex, layered challenges. Even when I know more details of a situation, when I am responding as a chaplain or a pastor rather than a guest speaker, I can't always fix, can't always help. Sometimes I – sometimes we – can only listen, and pray, and hope.
There is so much I don't know.
But there are some things I've learned. There are some things that I know, or at least that I am stumbling into knowing, into believing.
I know that if we do the hard, consistent work of challenging silence and stigma, more people will be able to ask for help.
I know that if we are sensitive to the ways that we are socialized not to ask for help, whether because of gender, or an American culture of individualism, or any of the many other factors that make "I can do this on my own" the supposed ideal, more people will be able to ask for help.
I know that if we push back on trauma-creating systems, if we pay attention to the ways that race, class, sexual orientation, gender identity and presentation, and systemic injustice impact our shared human need for mental, emotional, and spiritual health, more people will be able to ask for help.
I know that if we work to make quality mental healthcare affordable and accessible for all, more people will be able to ask for help.
I know that congregations and faith communities can play important roles in this work.
And I know – I have faith – that we can do this because we are called to it by the One who is our Advocate, our Companion, our Comforter, and our Friend, the one who calls us to healing and to wholeness in the midst of the forces of fragmentation and death.
There is much I do not know. But I have faith in the God who calls us into spaces of not-knowing.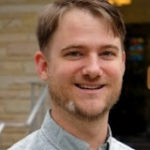 David Finnegan-Hosey is the author of Christ on the Psych Ward and Grace is a Pre-Existing Condition: Faith, Systems, and Mental Healthcare. He serves as College Chaplain and Director of Campus Ministries at Barton College. He holds an M.Div from Wesley Theological Seminary and a unit of Clinical Pastoral Education from the National Institutes of Health Clinical Center. He is certified by Mental Health First Aid USA to provide initial help to people experiencing depression, anxiety, psychosis, and substance use disorders. In 2011, David was diagnosed with bipolar disorder after a series of psychiatric hospitalizations. He now speaks and writes about the intersections among mental illness, mental health, and faith. David lives in Wilson, NC with his wife Leigh, their daughter Laila, and their dog Penny Lane.