So do not fear, for I am with you:
do not be dismayed, for I am your God.
I will strengthen you and help you;
I will uphold you with my righteous right hand.
Isaiah 41:10
The events of the last week have changed the course of life as we know it in the United States. In the end, it isn't about who's to blame or what could have been done. It's too late for that now. We have to all work together to prevent what is quickly becoming something that is proving to be a very formidable enemy.
One thing I do know, however is that many people, including myself, have had their anxiety heightened by the virtual uncertainty of the future. Now, I've never been one to have anxiety (although I do live with bipolar disorder) however the situation we are in has even got me more on edge.
But this is where, as I told a friend today, I need to use my tools. First and foremost, I need to remember to breathe. Deep. Breathing can do wonders to alleviate anxiety and help reduce stress.
Secondly, I need to have faith. Faith can not only move mountains, it can help to provide a deep sense of assurance that things will be okay.
Third, I can use my supports to provide support to each other amidst the tide of turbulent waters we are in. There is nothing quite like having someone to talk to, to just let it all out.
Fourth, I need to reach out to those less fortunate and who may be in need. Most of us probably know someone who may be more isolated as a result of the current environment we are in. Not only does it help them, but it also helps me to get out of my own head. When I help someone else I know that I am doing what I, as a Christian, have been asked to do.
Next, I need to attend to my self-care. Sleep is a big one as is physical exercise. The combination of the two can be very beneficial in helping to regulate my system. And I cannot forget to meditate. Even just being still and quiet for as little as ten minutes can do wonders for the mind, body and spirit.
And last, but certainly not least, I need to pray. In the course of my life I have faced incredibly difficult situations, all of which I've been able to get through by actively praying. Not only with words but also with action. When I pray I co-create with God thereby allowing for the process of becoming the person I was intended to be. In terms of today, I need to pray to let God know that I need God's strength and guidance to be able to maintain my mental and emotional stability.
If I practice these simple tools, I have a much more likelihood of weathering the storm of uncertainty we are all facing.
While the days ahead are going to be very hard for many, if not most of us, it is important to know that with God in our lives there truly is nothing to fear.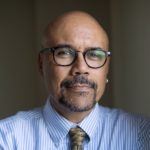 Karl Shallowhorn is the President and Founder of Shallowhorn Consulting,, LLC. He is also the Chair of the Erie County Anti-Stigma Coalition and serves as the Chair of Affiliate Relations for the Mental Health Association in New York State. He lives in Amherst, New York with his wife and their dog Sophie.