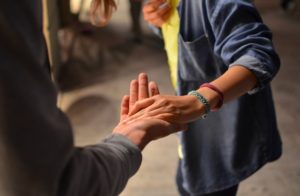 'The Lord is slow to anger and abounding in steadfast love, forgiving iniquity and transgression, but God will by no means clear the guilty, visiting the iniquity of the fathers on the children, to the third and the fourth generation." Numbers 14:18
The New York Times recently cited a study from the Centers for Disease Control and Prevention highlighting the rise of depression and anxiety in young adults. "The effects of the coronavirus outbreaks were felt most keenly by young adults ages 18-24" (Young Adults Report Rising levels of Anxiety and Depression in Pandemic, NYT, 8-13-2020). One of the reasons offered to explain this increase was that perhaps young people have not yet developed the coping skills that older adults have acquired given their life experience. This comment gave me pause.
There is no doubt that life experience informs wisdom in many cases. However, from my own empirical observation, as a psychotherapist serving young adults, many of them college students, I would offer a different set of possibilities. I have witnessed the sense of doom and fear that many young adults have for the future. There is a depth of burden that I, for one, did not have as a young college graduate. Our youth have inherited a fraught world. Across the board, many young people struggle with a loss of trust in government leaders and the general establishment. Some sit with the pressure of having thousands of dollars of college debt. There is a constant worry about climate change and a chronic deep sadness for our planet. And then, what does climate change mean for not just their future, but their children's future? (I have heard more than a few twenty-somethings say that they are not sure they want to have children due to this reality.) Unlike middle-aged and older adults who may pass through this life before the effects of climate change become dire, young people have no choice but to contend with the fallout. And then, of course, there is racism, America's profound sin of slavery. The resulting pain and terrible scars; the damage of hundreds of years of oppression are with us to stay unless we start confronting our past in a spirit of truth and reconciliation. And what about the basic day to day concerns? Unaffordable health insurance, limited jobs in their fields of study, and difficulty paying rent. The dream of homeownership is a distant reality for many young people. Each of these concerns is a reflection of our society and our collective soul. Inadequate coping skills? Please.
One 22-year-old woman said to me, "I am so tired, I have been so tired for the past 6 years." Another youth I work with craves the help and support of her father who drives a nice car and lives in a well-appointed home, yet he believes she must somehow find a way to pay off 100,000 dollars in college debt, all on her own. She is currently unemployed. And then, there are the ongoing somatic symptoms that show up in the day to day; the stomach issues, substance abuse, panic attacks, loneliness, and suicidal ideation. Many young people are disconnected from their families who do not, and will not, understand what they carry.
And now there is a Pandemic. Friends, our young people have plenty of coping skills. They were born into a post 9/11 world, a time period marked with war, security fears, trauma, and financial crashes. Some of our young adults have lost fathers and mothers, or other close family members to the fall of the Twin Towers, to combat, and residual illness. Others lost their family home to subprime mortgages, and their parents have yet to recover. With the immigration travesty, and a chaotic child welfare system, there has likely been unmitigated psychological, spiritual, and emotional damage to countless children. To my mind, we have failed our youth by denying them a future that is trustworthy, good, reliable, and sustainable. Of course, there are higher levels of depression and anxiety in this age demographic. What my own middle-age demographic trusted in and relied upon as certain, is no longer a certainty for our young adults.
Returning to the article's comment regarding our young people not having the coping skills that older adults possess. Wouldn't that be a nice and tidy answer for the current rise of mental health concerns in young adults over the last few months?
Let's talk about faith and mental health. God calls us forth to take responsibility for our community, our earth, and our future generations. This takes love, this takes hard work, this takes giving up our day to day individual comforts. God tells us we must care for our children so that they have a life to celebrate, full of God's glory and grace. There must be a future to believe in.
We turn a blind eye to the things we don't want to see, and we hang on tight to our corner of the pie. Depression and anxiety have risen dramatically for young people since the start of the Pandemic. Yes, the importance of getting individual help cannot be overstated. But we as a society, particularly the older generations, need to pay attention. God calls us to love our neighbor as ourselves and to stop being so damn selfish. Let us provide the care that transforms. May we bravely act, so that there can be healing for all of God's people. Our future depends on it.
Jennifer Stuart is an ordained minister in the United Church of Christ. She serves as a community minister at First Church in Cambridge, MA, UCC. Jennifer, a clinical social worker specializing in psychological trauma, is a psychotherapist at the Danielsen Institute at Boston University.