The COVID-19 pandemic has changed life as we know it. One of the consistent themes of this experience is the collective uncertainty of what we are going through. In all honesty, none of us really knows what the future will bring (not that we did before the pandemic, either, but that's not the point).
But there's more at stake here. People are dealing with the loss, or potential loss, of jobs, relationships and even of loved ones who have succumbed to the Coronavirus disease. All of these circumstances can engender a profound sense of fear.
Fear is a natural human emotion. It can produce what is known as the "fight or flight" response. When we are in this state of mind, one's body produces cortisol, a naturally occurring hormone that regulates our metabolism as well as the body's immune response. However, when a person has too much cortisol in their system, stress can result. This stress can produce anxiety.
I don't know about you, but I don't like feeling anxious. And while I am not typically prone to anxiety, it doesn't mean I don't have my moments. One thing that I've learned is that the practice of meditation has greatly helped me to manage the anxiety I have had during this period. Meditation doesn't have to be done for hours on end., Even 5-10 minutes can produce beneficial results.
I've been meditating daily for quite a while. I've found this practice to be especially useful in many ways. First, being someone, whose mind is always going, the ability to sit quietly and focus on my mantra (a word or sound repeated to aid concentration in meditation.) greatly improves my mental clarity.
Mediating also helps my sleep. I have a routine of meditating before I go to go to bed at night. This helps me to settle down and make the shift from what is usually a busy day to a time when I'm planning to rest. It's also a way to give my body a signal that it's time to let go of the day's worries.
Finally, meditation helps me with my connection to the Divine. When I take those precious moments to be still, I feel the presence of God stirring inside of me. And while it's hard to describe in words, I can say that I do receive a sense of assurance that everything is going to be okay. And that, more than anything else, is what I believe we all need to feel now.
If you are feeling a sense of anxiety, I'd suggest incorporating meditation into your daily routine. You may find it as a means to help you to both cope with your fears and develop a deeper connection with your Higher Power. Being still can do wonders for the body, mind and spirit.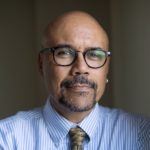 Karl Shallowhorn is the President and Founder of Shallowhorn Consulting,, LLC. He is also the Chair of the Erie County Anti-Stigma Coalition and serves as the Chair of Affiliate Relations for the Mental Health Association in New York State. He lives in Amherst, New York with his wife and their dog Sophie.